About
Image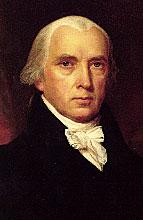 The Papers of James Madison project, housed at the University of Virginia, was established in 1956 to publish annotated print volumes of the correspondence and writings of James Madison, the Virginia statesman most often remembered for his public service as "Father of the Constitution" and fourth president of the United States.
The published volumes provide accurate texts of Madison's incoming and outgoing correspondence, informative notes on textual and subject matters, and comprehensive indexes. They are incomparably rich resources for students of Madison's life and valuable research tools for those interested in the general history of the period in which Madison lived, 1751-1836.
To date, the project has collected copies of nearly 38,000 documents related to Madison's life, including letters, essays, notes, diaries, account books, ledgers, wills, legal papers, and inventories. The project serves the public by translating into print these decaying and often nearly illegible manuscripts, thereby preserving them for future generations and making them easier to use.
The published volumes also make the contents of Madison-related documents, the originals of which are housed in some 250 archives worldwide, easily accessible to libraries and interested individuals anywhere books are available. The first ten volumes of the Congressional Series were published by the University of Chicago Press, 1962-77. Since 1977 all volumes have been published by the University of Virginia Press.
Additionally, since 2010, the digital edition of the Madison Papers has been available through ROTUNDA, the digital-publishing wing of the University of Virginia Press. Most of the published volumes are currently available to subscribers of ROTUNDA (which include many major universities), and new volumes are added to the digital collection within about eighteen months of being issued in print.
Preliminary transcriptions of more than 5,500 as-yet-unpublished Madison documents are also available to view for free through the ROTUNDA Founders Early Access project. These documents were prepared and reviewed by the staff of Documents Compass, a program of Virginia Humanities, but have not yet been edited or annotated by Papers of James Madison staff.
The National Archives Founders Online website is another source where you can freely access the published Papers of James Madison (18-24 months after publication) and the Early Access documents. Ultimately the entire collection of Madison's works will be available in digital format, where cross-referencing and searching capabilities provide enhanced access not only to the Papers of James Madison, but to the papers of other members of the founding era, including Dolley Madison, George Washington, John Adams, Thomas Jefferson, Alexander Hamilton, and many more. These digital resources provide enhanced access for researchers and readers worldwide.
This nonprofit project is currently supported by grants from the National Endowment for the Humanities (an independent federal agency), the National Historical Publications and Records Commission, and the Packard Humanities Institute (a non-profit foundation), as well as by contributions from private individuals.